Oregon ShoreZone Data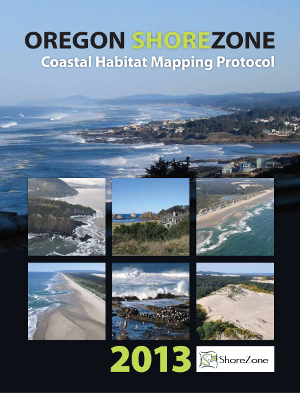 ShoreZone is a coastal habitat mapping and classification system in which georeferenced aerial imagery is collected specifically for the interpretation and integration of geological and biological features of the intertidal zone and nearshore environment. The mapping methodology is summarized in Harper et al (2013).
The data summary report provides information on geomorphic and biological features of 2,633 km of shoreline mapped for the 2011 coastal survey of Oregon. The habitat inventory is comprised of 3,223 along-shore segments (units), averaging 817m in length.
Products
Three primary product types are available: geospatial data, still images, and oblique video. This page links to the geospatial data products, and related PDF documentation for the project.
Funding
This work was supported in part by the Oregon Coastal Management Program through a Section 309 Program Enhancement Grant from the Office for Coastal Management of the National Oceanic and Atmospheric Administration. Additional funds were provided by Oregon Department of Fish & Wildlife and the Oregon Framework Program.
License
ShoreZone images are being made available under a Creative Commons "CC-BY-SA" license. You can learn more about what that means here. Please cite Oregon ShoreZone, CC-BY-SA.